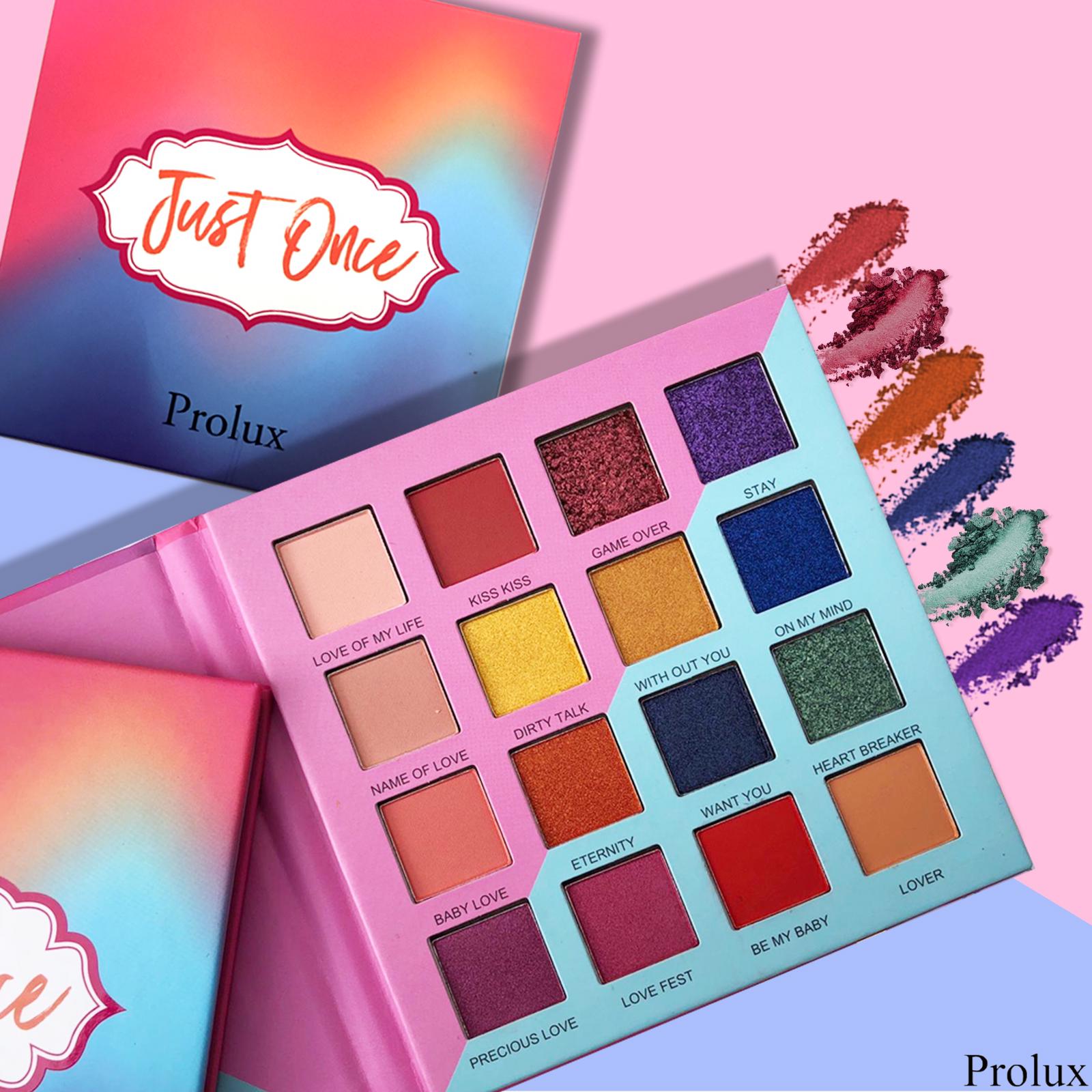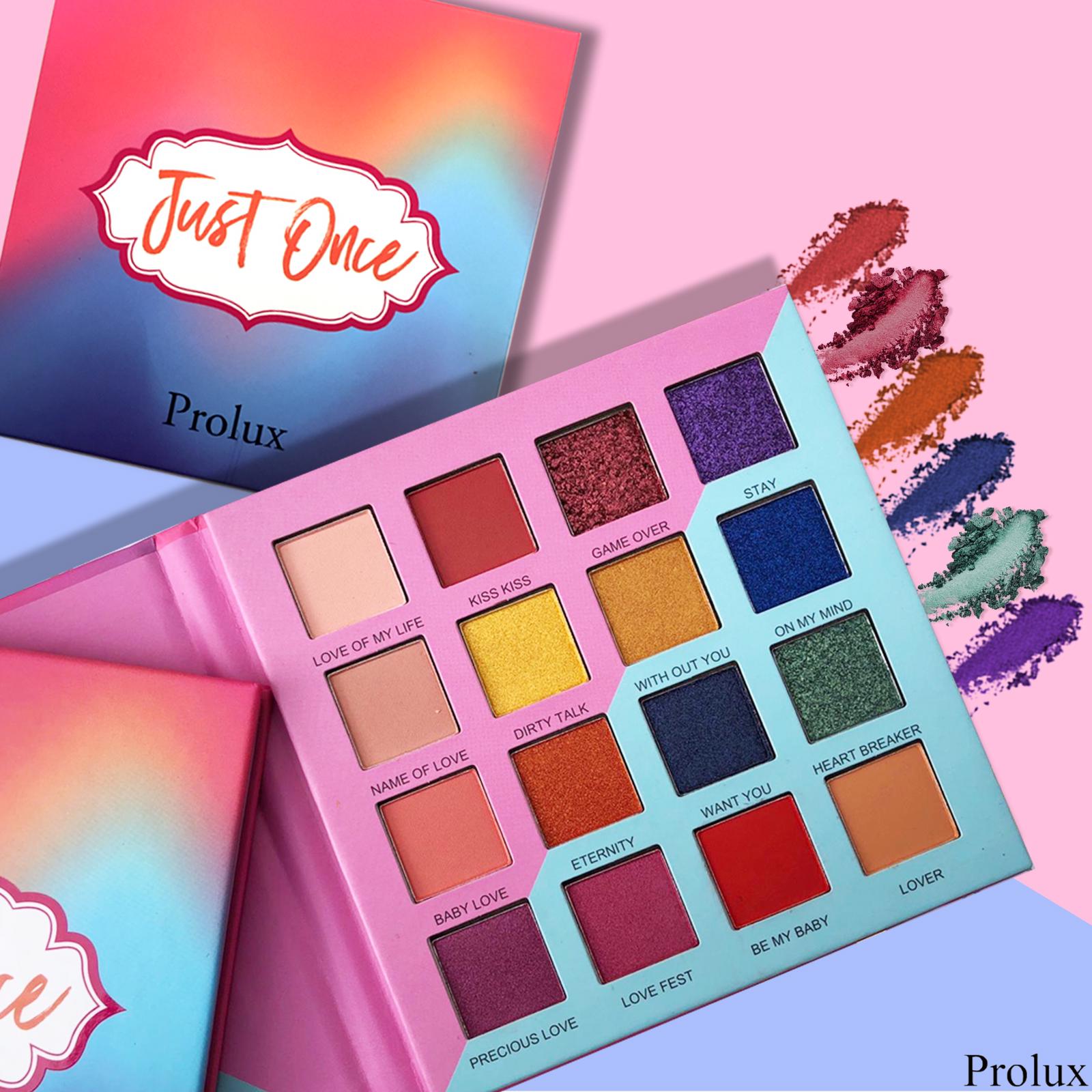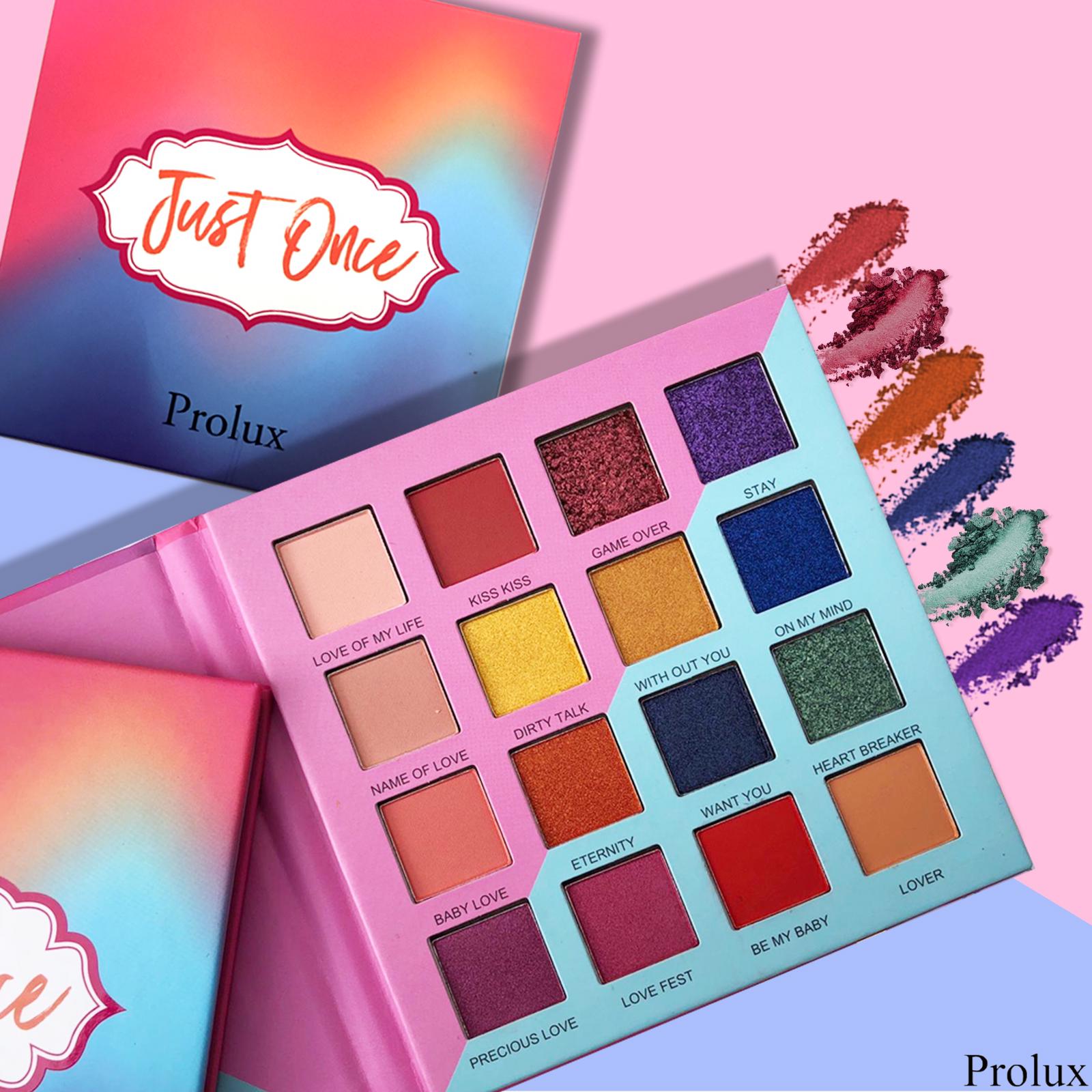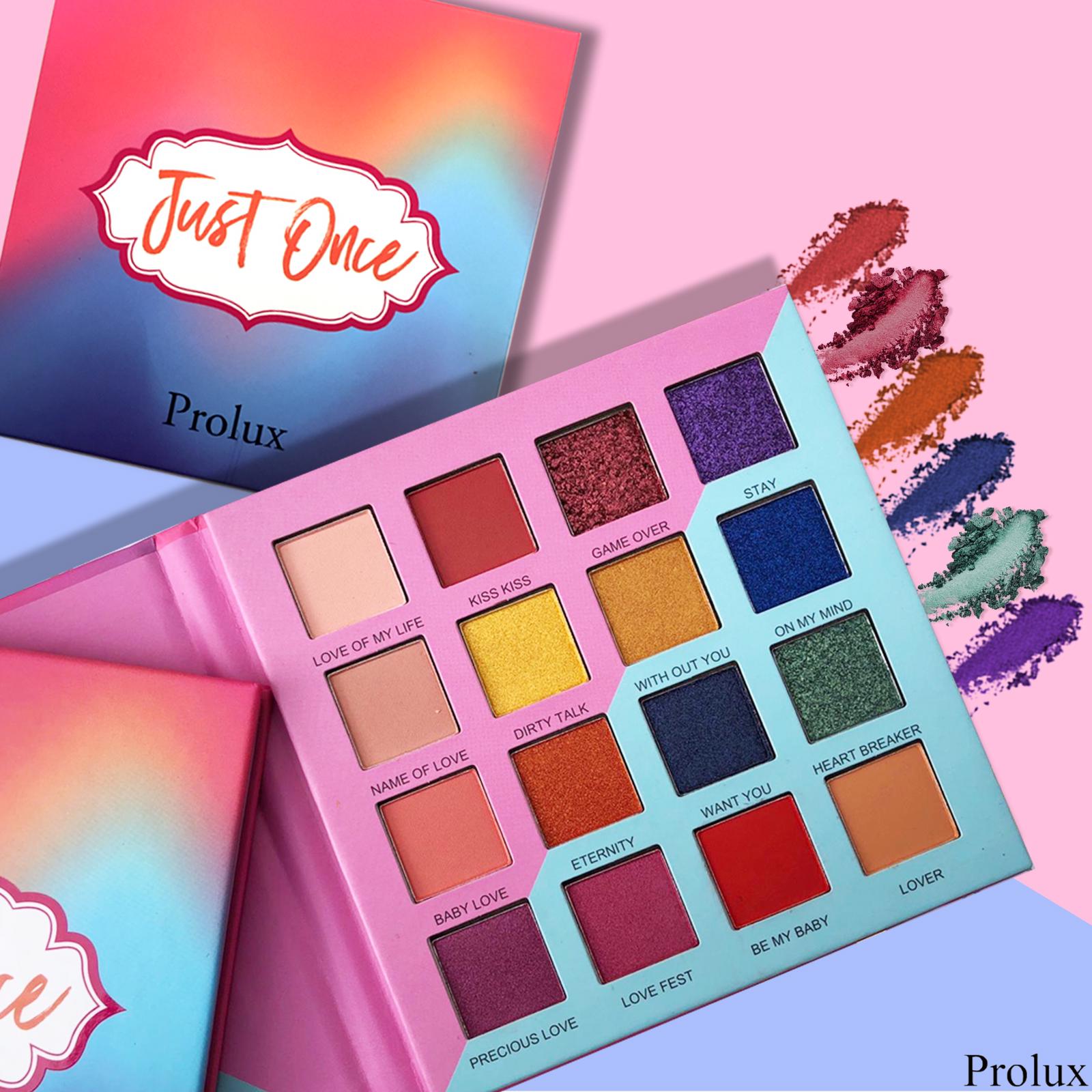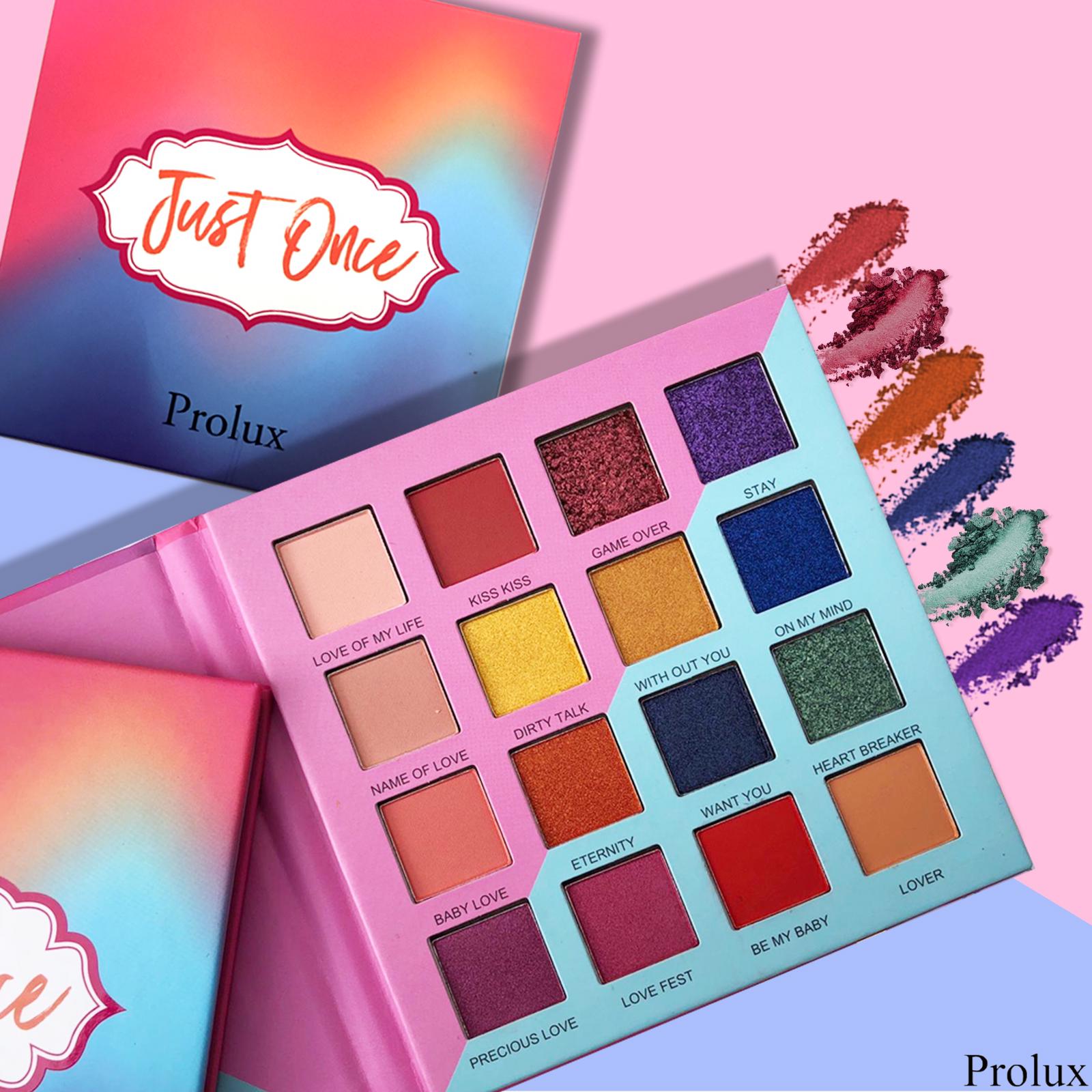 Just Once eyeshadow palette
Introducing the Prolux Just Once Eyeshadow Palette - your go-to palette for creating stunning eye looks with just one palette! This all-inclusive eyeshadow palette features 16 carefully curated shades, including 6 mesmerizing mattes and 10 dazzling shimmers. Experience the ultimate blend of everyday neutrals and bold hues that will take your eye makeup game to new heights. With its buttery-soft, blendable formula, the Just Once Eyeshadow Palette is a must-have addition to your makeup collection.
Key Features:
16 Gorgeous Shades: The Just Once Eyeshadow Palette offers a versatile selection of 16 captivating shades, providing endless possibilities for eye makeup looks.

6 Matte Shades: Unleash your creativity with a range of matte shades, perfect for creating depth, defining creases, and achieving a subtle, sophisticated look.

10 Shimmer Shades: Get ready to shine with 10 stunning shimmer shades that add a touch of sparkle and allure to your eyes, ideal for creating dazzling, eye-catching looks.

Perfect Mix of Everyday Neutrals and Bold Hues: This palette strikes the perfect balance between everyday wearable neutrals and vibrant, statement-making colors, ensuring it suits all occasions and moods.

Buttery-Soft and Blendable: The eyeshadows are exquisitely formulated to be buttery-soft and blend effortlessly, allowing for seamless application and stunning transitions between shades.

Long-Lasting and Pigmented: Experience richly pigmented colors that stay vibrant and true throughout the day, ensuring your eye makeup looks remain flawless.

High-Quality Ingredients: Prolux takes pride in using high-quality ingredients, making the Just Once Eyeshadow Palette suitable for all skin types, including sensitive skin.

Compact and Travel-Friendly: The sleek and slim design of the palette makes it perfect for on-the-go touch-ups and travel, so you can effortlessly create eye-catching looks wherever you go.

Versatile and User-Friendly: Whether you're a makeup enthusiast or a makeup novice, the Just Once Eyeshadow Palette is designed to be easy to use, allowing you to experiment and achieve professional-looking results.
Experience the magic of the Prolux Just Once Eyeshadow Palette and elevate your eye makeup to new levels of creativity and beauty. With its blend of stunning matte and shimmer shades and a buttery-soft formula, this palette will become your go-to companion for all your eye looks. Don't miss the opportunity to own this versatile and captivating eyeshadow palette. Add it to your cart now and embrace the artistry of eyeshadow application with just one palette!