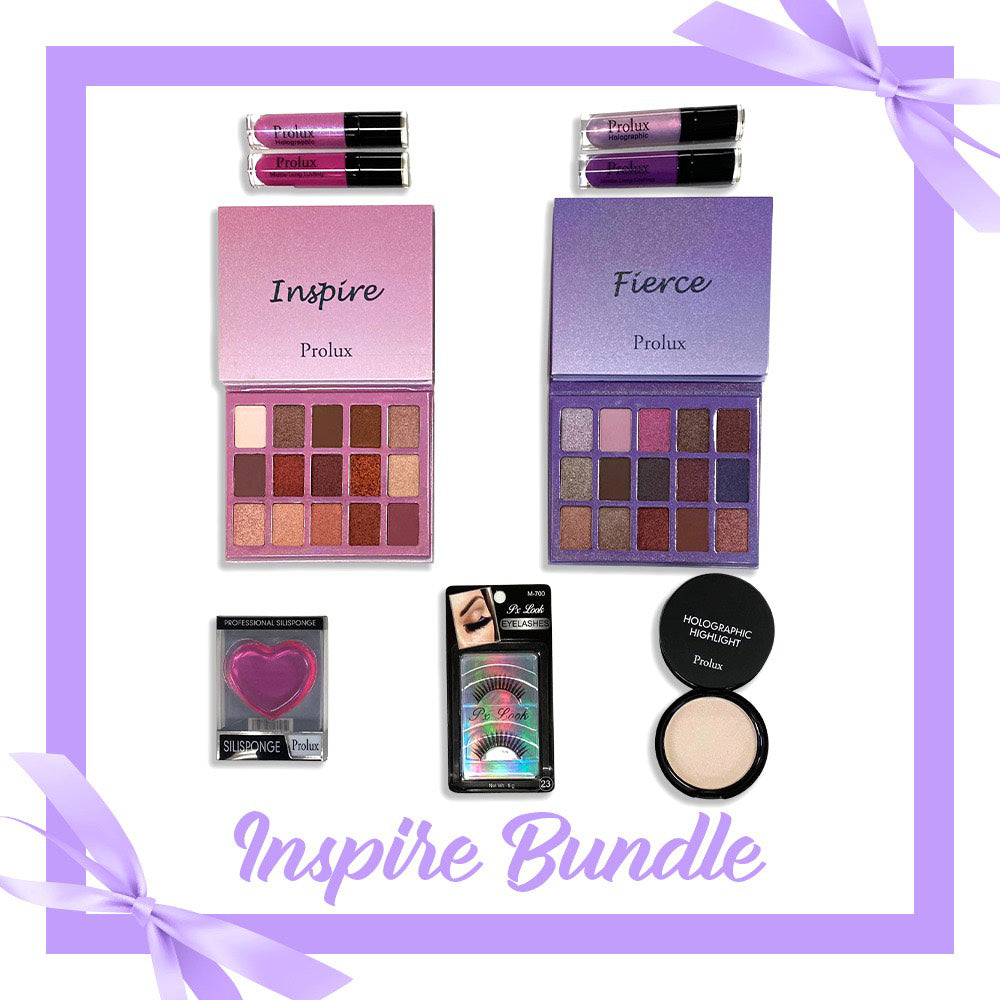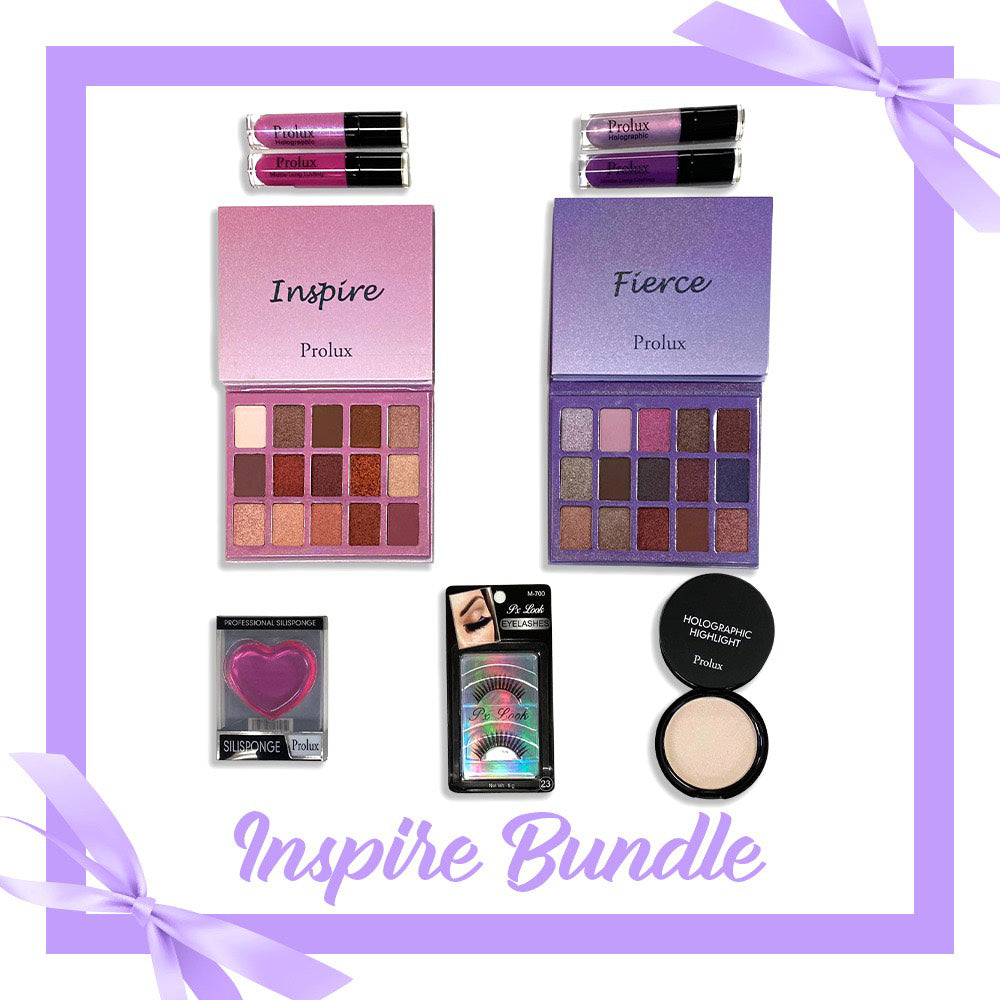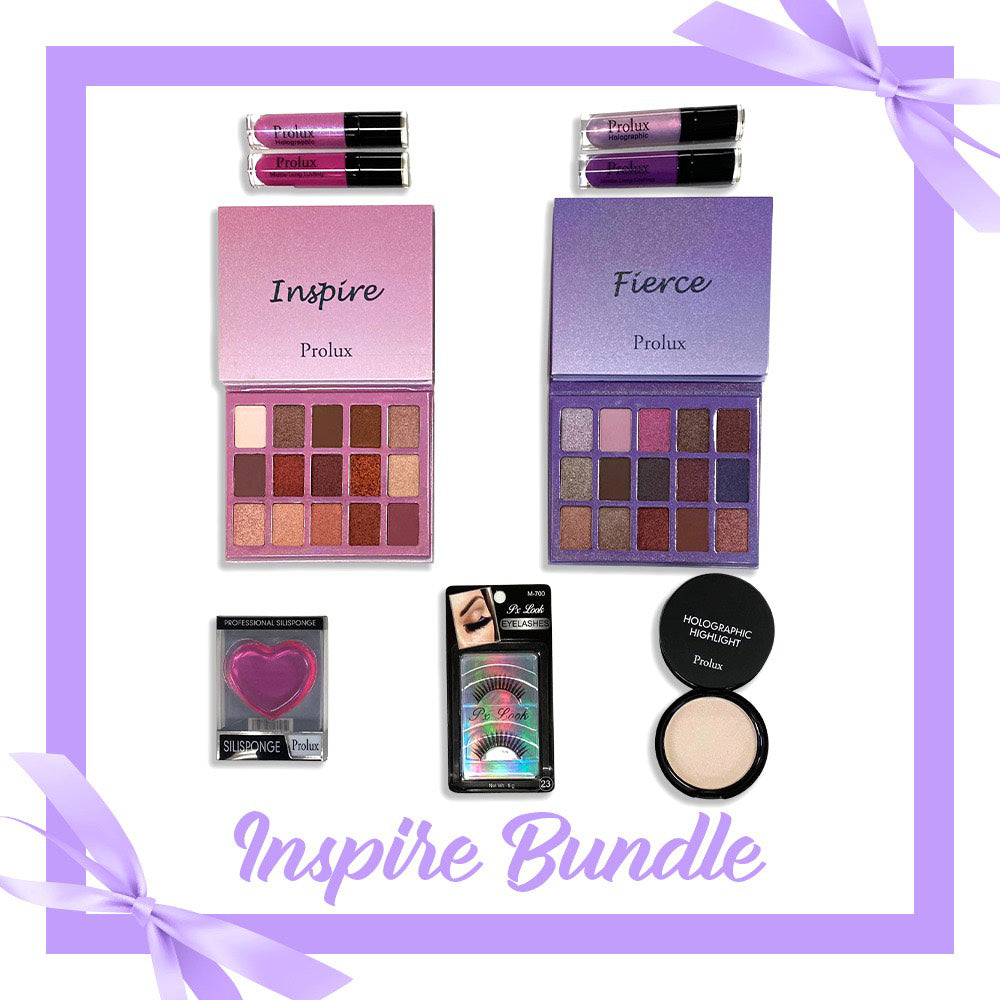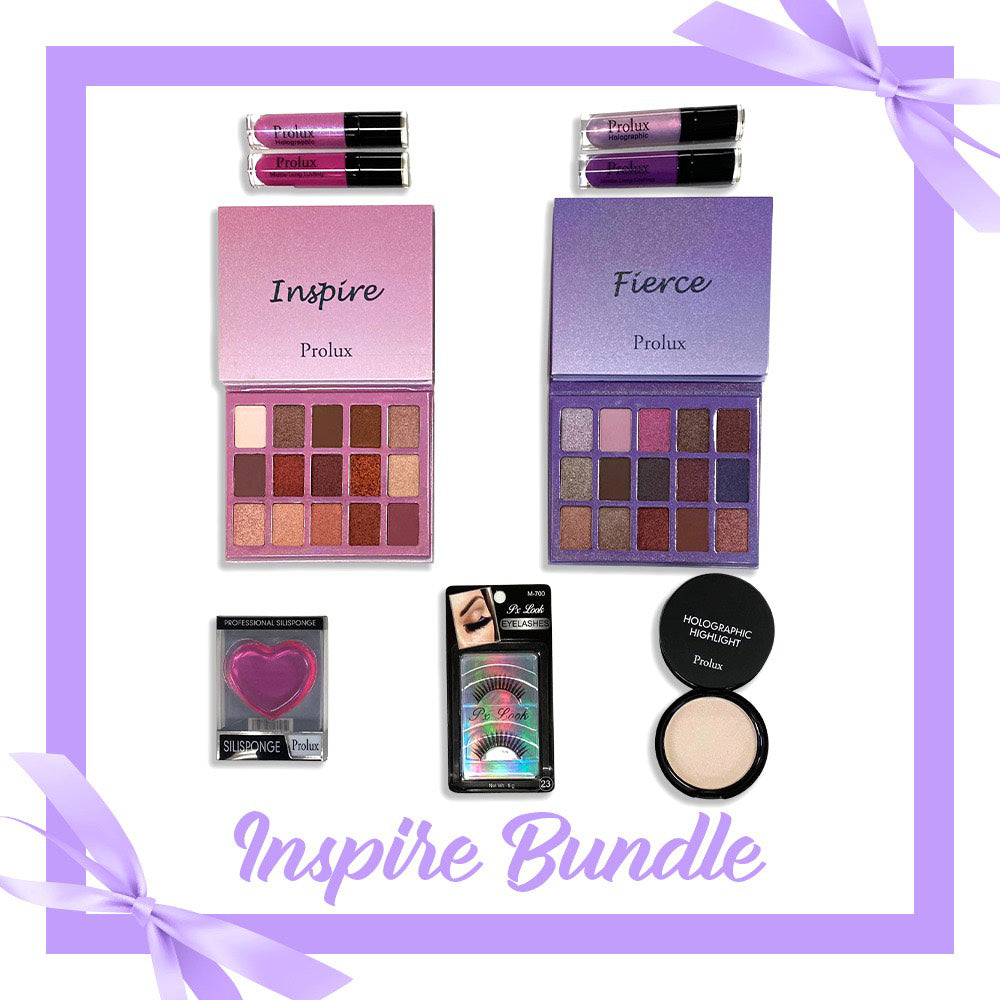 Inspire Bundle | Makeup Bundle Gift Set
Introducing the Prolux Inspire Bundle - your ultimate makeup collection to unleash your creativity and elevate your look to new heights. This all-in-one bundle includes a selection of our best-selling products, carefully curated to inspire your inner makeup artist. Dive into a world of endless possibilities with the Fierce and Inspire eyeshadow palettes, enhance your glow with holographic highlights, and complete your look with stunning liquid lipsticks, holographic glosses, a silicone sponge, and a pair of lashes. Elevate your makeup game with the Prolux Inspire Bundle!
Key Features:
Fierce Eyeshadow Palette: Unleash your fierce side with this eyeshadow palette featuring a wide range of intense and bold shades. Create captivating eye looks that make a statement and express your unique style.

Inspire Eyeshadow Palette: Fuel your creativity with the Inspire eyeshadow palette, boasting an array of versatile shades, from soft neutrals to rich jewel tones. Perfect for achieving both everyday and dramatic looks.

Silicone Sponge: The silicone sponge is a game-changer in makeup application. Its smooth surface allows for even product distribution, minimal product wastage, and easy cleaning, providing a flawless base for your makeup.

Holographic Highlight: Add a touch of enchantment to your complexion with the holographic highlight. Its iridescent finish catches the light from every angle, giving you a radiant and ethereal glow.

Liquid Lipsticks: Our bundle includes two long-wearing liquid lipsticks that deliver intense color payoff and a comfortable matte finish. These lipsticks will stay put throughout the day, ensuring your pout looks flawless.

Holographic Glosses: Enhance your lip look with the holographic glosses. These mesmerizing glosses can be worn alone or layered over your liquid lipstick to create a captivating, multi-dimensional effect.

Pair of Lashes: Elevate your eye makeup with the included pair of lashes. Designed to add volume and length, these lashes provide a stunning finishing touch to your eye looks.

All-in-One Makeup Collection: The Inspire Bundle is a complete makeup collection that covers all aspects of your makeup routine, from eyes to lips, making it the perfect choice for makeup enthusiasts and beginners alike.

High-Quality Formulas: Prolux products are formulated with premium ingredients, ensuring excellent color payoff, long-lasting wear, and a comfortable application experience.
Unlock the artist within and elevate your makeup skills with the Prolux Inspire Bundle. Whether you're looking for bold and fierce looks or soft and ethereal vibes, this bundle has everything you need to create an array of captivating makeup styles. Don't miss out on this limited-time offer! Add the Inspire Bundle to your cart and embrace the world of endless makeup possibilities.